MEET OUR BOARD OF DIRECTORS

The ACMP Ohio Board of Directors is elected by the active members of ACMP Global who have designated Ohio as their Primary Chapter. Elections are held for one-half of the board positions each year in September. Once elected, board members serve a two-year term beginning October 1.
JAMES GERHARD
President, CCMPTM |
Allstate
cristin chao
Vice President, CCMPTM |
OhioHealth
RON KIBBE
Secretary |
The Ohio State University
Wexner Medical Center
LEONTINE SYNOR
Treasurer |
Avaap
DIRECTORS/COMMITTEE CHAIRPERSONS
lori labeau
Sponsorship Director |
ADM
TINA NEER
Marketing & Communications Director |
DRB
natalie bullock
Membership Director |
Centric Consulting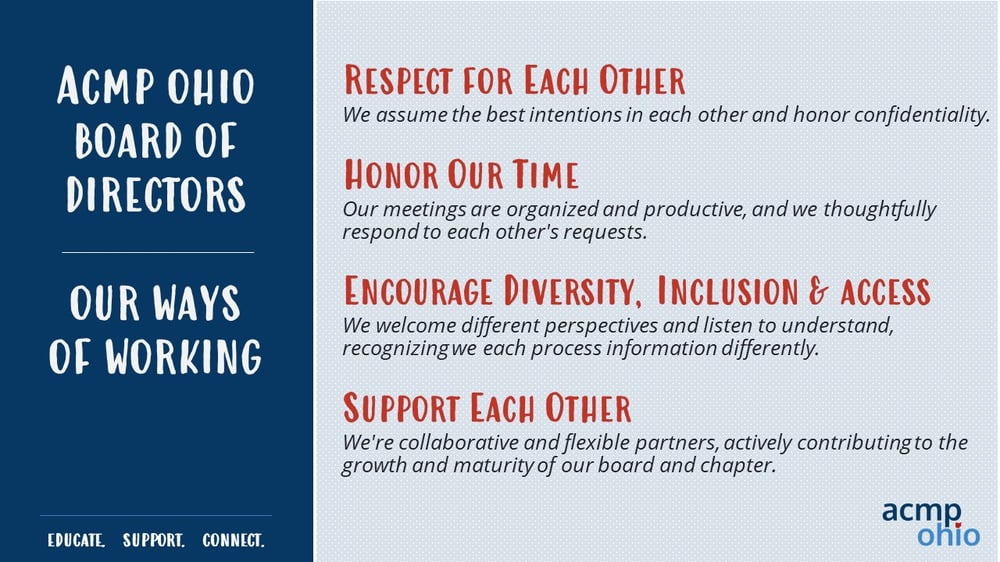 Our ways of working
We know it's a big decision to commit time and expertise to serve as a board member. So, we've spent some time on collectively working through how the ACMP Ohio board operates and to voice our expectations on how we work together to fulfill our mission and serve our members - aka Our Ways of Working.